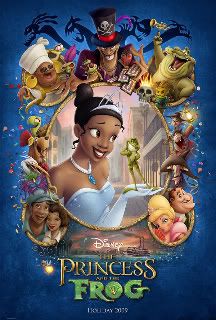 In a failed attempt to relive a little of my childhood I decided to watch the latest Disney princess movie The Princess and the Frog. I know that this film in particular wasn't exactly apart of my childhood but I couldn't resist, I love princess stories. The Princess and the Frog is a spin on a fairy tale that most people are familiar with in which the Princess kisses the frog and he becomes a prince, they then fall in love and as in most fairy tales they then both live happily ever after.
Disney sets the setting of the film in New Orleans and the "Princess" is a working class girl named Tiana. All she wants is to own her own restaurant, Tiana's Place, and she is willing to work as much as she needs to in order to make it happen (whether that be one job two or three). In comparison to other Disney princess films, like Cinderella and Snow White, Tina can be read as the princess for the modern girl, she is not the traditional damsel in distress like the other Disney Princesses and believes in a hard work ethic not capitalizing on looks or luck. So is Tina a positive Disney Princess and a role model? Not quite, at the end of the day she still needs Prince Naveen to save her, to make her human again. When presented with the opportunity to become human again and keeping the Prince a frog she chooses to live the life of a frog so long as they can have each other. Tiana is still portrayed as the "damsel in distress" just a little more independent and skill full.
Here Disney still employs a lot of the same stereotypes as see in other films or other forms of media. They portray her as being a stereotypical woman. Her dream is to be a cook, a feminized profession, and her special dish is gumbo. The thing that attracted Prince Naveen to her were her looks, Tiana is anything but homely. In fact the whole reason that she turns into a frog is because the prince needs to kiss a "princess" and he promised her money in exchange for a kiss simply because she looked the part. On another note, her mother still pushes her to fall in love which she says is "what is important." Throughout the film, via several characters, this idea that material wealth and working toward a goal are good but they won't make you happy, love will is a central part of the film. This romanticized idea of love is what "all girls should want."
Princess Tiana is the first African American Disney Princess and as such she is significant. But if Disney is so concerned with representation and being inclusive to all cultures then where is the Latina princess? I would be a hypocrite to criticize Disney, as I am a big fan, and I hate to point out the obvious but Disney is teaching children a very particular way of being a person and what opportunities are given to people. Watching a children's movie from an adult perspective it is obvious to me that the messages in films like these are not as positive as they seemed when I was a child.